Mobile's Downtown Walls are Talking
The Business View – May 2019 / Cover Story Addition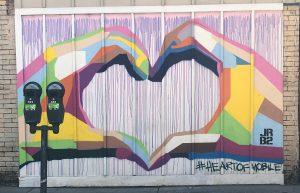 Colorful artwork on buildings throughout downtown Mobile has brightened the streetscape in recent months. The Business View recently spoke to Shellie Teague, executive director of the Mobile Arts Council (MAC) about the downtown murals.
How many murals are there in downtown Mobile?
There are roughly 15 murals in downtown Mobile. This doesn't include sculptures we group together as a body of public art.
Where are they?
The entire listing of public art can be found online at ArtGO: mobileartgo.com. The idea by Leadership Mobile was to list all the public art and focus on the downtown art to create an outdoor walking trail.
How do the murals happen?
Public art downtown comes about as the result of several factors, depending on the individuals or groups behind them. Murals highlight individuals or ideas, beautify a building or neighborhood, or celebrate history and culture of the area.
How are the buildings chosen?
For the Mobile Arts Council, we like to choose buildings on a number of factors: visibility, traffic; historic/ non-historic (historic buildings/ neighborhoods have more requirements/ restrictions); location in relation to other public art; and engagement. We want to be sure our murals/public art aren't all located in the same area or even on the same street.
How are the artists chosen?
Artists can be chosen through an RFP process or by the artist approaching MAC with a proposal. Many times, there are businesses and groups looking to do a public art piece and we can connect the artist to those businesses to make it happen.
Why have murals?
Public art and murals are so very vital to the culture of a city. Murals build a sense of community, making the area welcoming and walkable. They create conversations, inspire connections and are a great way of promoting the city.
Click here to read The Business View – May 2019
Additional information is on the Mobile Area Chamber of Commerce's website at www.mobilechamber.com, on Facebook at @MobileChamber and Twitter at @MobileChamber.
About the Mobile Chamber
The Mobile Chamber is a private business organization with more than 1,700 members and the economic developer for the City of Mobile and Mobile County. The Mobile Chamber's focus is to provide members with networking, marketing and professional development opportunities, expand jobs in the area, develop the local workforce, advocate legislative priorities and offer resources to help small businesses grow. Additional information is on the Chamber's website, Facebook, Instagram, LinkedIn, Twitter and YouTube.