Get Your Plans in Place Now for Managing a Disaster
The Business View – May 2019 / Small Business Corner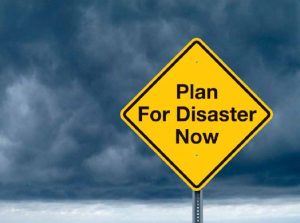 Stop for a moment and think about all the time and resources you've invested in your small business. Now, imagine that it's all gone – facilities, equipment, everything. What do you do? Every year, this hypothetical question becomes very real to thousands of small business owners who suffer losses due to fires, natural disasters and other events.
The Gulf Coast has seen its share of disasters, and hurricane season starts next month. A thoughtful, proactive disaster management plan can mitigate the impact on your business and help speed your return to normal operations should it be needed.
Here are some tips for developing a disaster management strategy:
Identify Potential Hazards
Consider both natural events (e.g., hurricanes, floods, earthquakes and ice storms) as well as man-made disasters such as fires, toxic material spills, even civil unrest and terrorism.
Develop Operational Contingency Plans
Assess the feasibility of operating out of rented office space, a nearby storefront or even your home, and what equipment/resources will be needed (e.g., computers, data files, inventory). Important documents, back-up copies of computer records and software and other vital information should be stored in a fireproof container, or at a secure off-site location.
Ensure the Safety of Employees and Customers
Develop an evacuation plan that includes access to shelters, hospitals and other emergency services. Keep emergency telephone numbers clearly posted, maintain an up-to-date emergency contact list and have a comprehensive crisis manual readily available to all employees. Perform a Safety Inventory Invite your fire department, police department, your insurer and perhaps accountant and attorney to work with you to evaluate your current situation. They can make suggestions to improve processes, security of the facility both inside and out, recordkeeping and securing company paperwork.
Make Sure You Have Emergency Supplies
Your list should include well-stocked first-aid kits, fully charged fire extinguishers and a fresh supply of all types of batteries used in your business. If you have portable generators for emergency power, make sure the fuel is fresh and safely stored.
Review Business Insurance Coverage
At a minimum, coverage should be enough to get your business back in operation and cover the replacement cost of essential facilities and equipment. Note that most general casualty policies do not cover flood damage, nor may they apply to special tools or equipment. Also consider purchasing business interruption insurance, which can assist with ongoing expenses during a forced shutdown.
For more information, the American Red Cross, the U.S. Small Business Administration and the IRS have excellent resources and tools on their websites to assist you in your preparation and planning.
Click here to read The Business View – May 2019
Additional information is on the Mobile Area Chamber of Commerce's website at www.mobilechamber.com, on Facebook at @MobileChamber and Twitter at @MobileChamber.
About the Mobile Chamber
The Mobile Chamber is a private business organization with more than 1,700 members and the economic developer for the City of Mobile and Mobile County. The Mobile Chamber's focus is to provide members with networking, marketing and professional development opportunities, expand jobs in the area, develop the local workforce, advocate legislative priorities and offer resources to help small businesses grow. Additional information is on the Chamber's website, Facebook, Instagram, LinkedIn, Twitter and YouTube.