Infrastructure Matters
The Business View – April 2019 / From the Publisher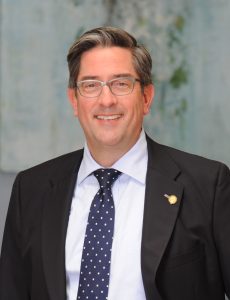 It's no secret that America's infrastructure is crumbling. Despite being the richest country in the world, the United States ranks 11th for infrastructure competitiveness, according to the World Economic Forum. The American Society of Civil Engineers (ASCE) prepares state-level report cards on the condition of infrastructure, such as roads, bridges, ports, water, wastewater and public transit.
America's cumulative GPA stands at a dismal D+, and grades by state range from A to F. Alabama comes in at a C-. It would take billions of dollars to upgrade our failing systems, but I'm convinced it is going to be absolutely necessary for the U.S. and Alabama to continue to grow economically – and to ensure shared growth and prosperity for ourselves and future generations.
But ever-growing demands on that infrastructure will require the Mobile Area Chamber to remain out front in our efforts to advocate for increased funding for deep water access at the port, the I-10 bridge project, road widening projects around the city, the expansion of our airports and continued water and wastewater improvements to our aging systems.
From an economic development standpoint, a weak infrastructure is a community's most significant barrier to growth. With our region's excellent transportation framework, this is an area where Mobile can, and does, compete handily.
This will be important work to ensure we remain on the short list for site selectors, and to make sure we protect our quality of life for all our citizens.
Alabama's and Mobile's ability to realize our competitive potential depends on making smart infrastructure choices in the critical upcoming years. We must respond to economic, demographic and fiscal changes so we can help our people and businesses continue to thrive and prosper.
Click here to read The Business View – April 2019
Additional information is on the Mobile Area Chamber of Commerce's website at www.mobilechamber.com, on Facebook at @MobileChamber and Twitter at @MobileChamber.
About the Mobile Chamber
The Mobile Chamber is a private business organization with more than 1,700 members and the economic developer for the City of Mobile and Mobile County. The Mobile Chamber's focus is to provide members with networking, marketing and professional development opportunities, expand jobs in the area, develop the local workforce, advocate legislative priorities and offer resources to help small businesses grow. Additional information is on the Chamber's website, Facebook, Instagram, LinkedIn, Twitter and YouTube.