McFadden Engineering Named 2018 Innovator of the Year
The Business View – December 2018/January 2019 / Award Winners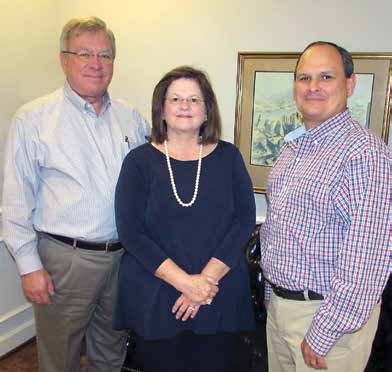 The Mobile Area Chamber named McFadden Engineering as the 2018 Innovator of the Year. Pictured here is the company's management team of husband and wife Frank and Hope McFadden along with Brad Newton (right).
The Mobile Area Chamber named McFadden Engineering its 2018 Innovator of the Year. The company specializes in full-scale environmental services, including water and wastewater, stream modeling and groundwater remediation engineering; and civil services.
McFadden Engineering recently launched OxyShark to offer clients a space-saving and cost-effective wastewater treatment option.
"We wanted to develop a system that treated everything from domestic sewage to industrial strength wastewater in an efficient, reliable manner that was low in operation and maintenance costs," said Frank McFadden, president and founder.
The patent-pending system has been installed at area companies, including a car wash, seafood processor, landfill, funeral home and more. Once the system completes its process, the water can be reused in landscape irrigation and car washes, as well as in other applications.
As an example, the system installed at Serenity Memorial Gardens & Funeral Home of Mobile is used to grow flowers. The outcome is tested monthly by Alabama Department of Environmental Management and meets or exceeds the organization's requirements, according to McFadden.
Licensed in five Southeastern states, the 30-year-old company has 11 employees, with plans to add additional staff before year-end.
Click here to read The Business View – December 2018/January 2019
Additional information is on the Mobile Area Chamber of Commerce's website at www.mobilechamber.com, on Facebook at @MobileChamber and Twitter at @MobileChamber.
About the Mobile Chamber
The Mobile Chamber is a private business organization with more than 1,700 members and the economic developer for the City of Mobile and Mobile County. The Mobile Chamber's focus is to provide members with networking, marketing and professional development opportunities, expand jobs in the area, develop the local workforce, advocate legislative priorities and offer resources to help small businesses grow. Additional information is on the Chamber's website, Facebook, Instagram, LinkedIn, Twitter and YouTube.