Local Developer to Build Continental Motors HQ
The Business View – October 2018 / News You Can Use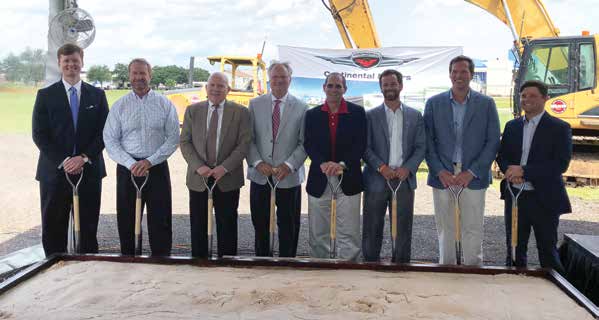 In its first project outside commercial retail development, Burton Property Group (BPG) is collaborating with Stonemont Financial Group and Clayco Inc. to construct Continental Motors' corporate headquarters and manufacturing facility at Mobile Aeroplex at Brookley.
With 275,000 square feet under roof, the state-of-the-art facility will consolidate Continental's current 11 buildings on 45 acres to two buildings on 20 acres, according to Philip G. Burton, president and CEO of BPG. The majority of the two facilities will be dedicated to engine and parts manufacturing.
The total project duration is expected to take 11 months, with another year to move in.
Clayco Inc., the design-build firm, will begin construction immediately at Brookley. "Our commitment to Continental Motors is to collaborate closely with their team to create a manufacturing environment that optimizes their quality, safety and productivity," said Clayco Executive Vice President and Shareholder Anthony Johnson.
"The 'greenfield' facility will modernize our manufacturing processes into a world-class, high-productivity, vertically integrated center of manufacturing excellence among the aviation cluster in Mobile," said Michael Skolnik, executive vice president of global operations for Continental.
Click here to read The Business View – October 2018
To read more about the Chamber's Economic Development efforts, click here.
Additional information is on the Mobile Area Chamber of Commerce's website at www.mobilechamber.com, on Facebook at @MobileChamber and Twitter at @MobileChamber.
About the Mobile Chamber
The Mobile Chamber is a private business organization with more than 1,700 members and the economic developer for the City of Mobile and Mobile County. The Mobile Chamber's focus is to provide members with networking, marketing and professional development opportunities, expand jobs in the area, develop the local workforce, advocate legislative priorities and offer resources to help small businesses grow. Additional information is on the Chamber's website, Facebook, Instagram, LinkedIn, Twitter and YouTube.