AeroStar Plans to Expand Facility, Add Employees
The Business View – May 2018 / News You Can Use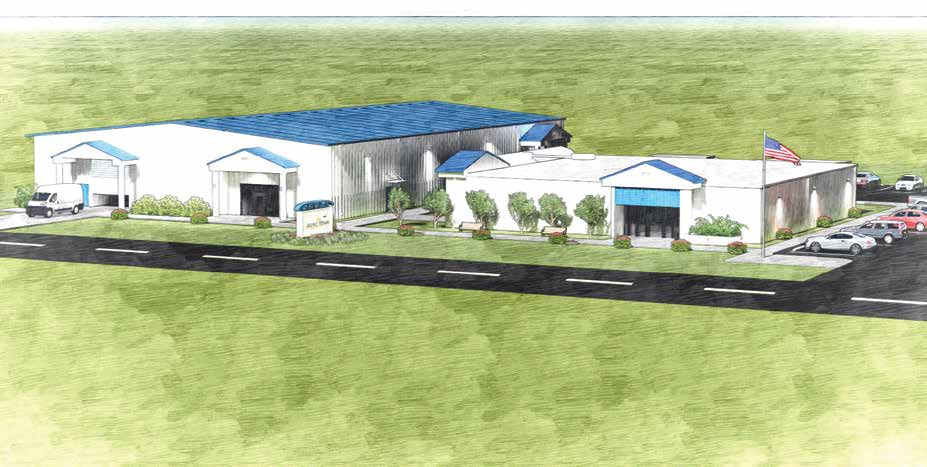 When AeroStar started operating seven years ago, Greg Guzman felt confident he could make the business grow and succeed.
The Mobile-based aircraft maintenance repair company today has maxed out every corner and closet in its existing 6,000-square-foot building, and Guzman, president and managing partner, said the company needed to expand.
In March, AeroStar announced plans to nearly triple its facility size and more than double its employee count over the next several years.
Founded in 2011 to service commercial, commuter and military aircraft, the company will add another 16,875-squarefoot building next to its existing one at Mobile Aeroplex at Brookley. The $2 million investment includes land, construction costs, machinery and equipment, and the project is expected to be complete by the end of this year.
Guzman said the company stayed at 10 employees for several years, finally hurdling the five-years-in-business benchmark and adding a salesperson in addition to himself. "We would have never come this far without the team of employees we have who really care about what we do," he said.
Another contributing factor was the "dramatic increase over the years of airlines moving to smaller third-party maintenance providers, like ours, for component maintenance needs," he added.
"To keep up with the stringent turnaround times, we need more technicians and test equipment. To fuel future growth, we need to invest in new test equipment that can keep up with the ever-changing technology of the newer aircraft."
AeroStar performs hydraulic, pneumatic and electromechanical commercial aircraft maintenance on all Airbus, Boeing and Bombardier platforms. The company has also benefited from its relationship with VT Mobile Aerospace Engineering customers such as FedEx, JetBlue and Delta.
"Entering into a fast developing aerospace sector in Mobile, AeroStar made their presence quickly known in the industry," said David Rodgers, the Chamber's senior project manager of economic development. "We are excited to see this homegrown business commit to new investment and jobs in our community."
Click here to read The Business View – May 2018
To read more about the Chamber's Economic Development efforts, click here.
Additional information is on the Mobile Area Chamber of Commerce's website at www.mobilechamber.com, on Facebook at @MobileChamber and Twitter at @MobileChamber.
About the Mobile Chamber
The Mobile Chamber is a private business organization with more than 1,700 members and the economic developer for the City of Mobile and Mobile County. The Mobile Chamber's focus is to provide members with networking, marketing and professional development opportunities, expand jobs in the area, develop the local workforce, advocate legislative priorities and offer resources to help small businesses grow. Additional information is on the Chamber's website, Facebook, Instagram, LinkedIn, Twitter and YouTube.