Nearly $50 Million Expansion Planned at Mobile's Container Terminal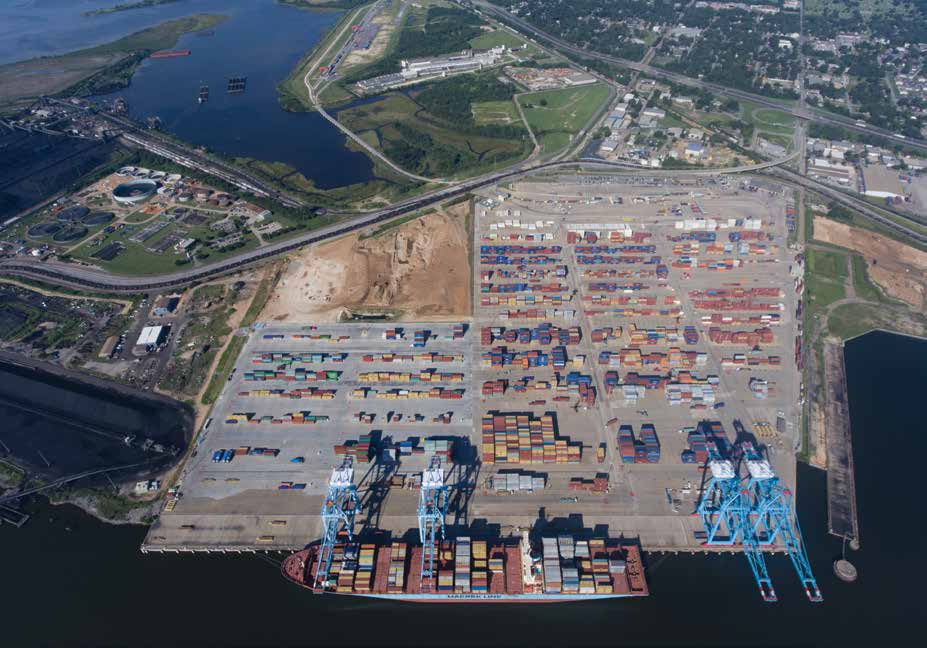 The Alabama State Port Authority (ASPA) and APM Terminals Mobile announced a $49.5 million expansion of the container facility at the Port of Mobile. This "Phase 3" expansion includes a dock extension and an additional 20 acres of improved yard to maintain capacity and accommodate new business opportunities. When completed, the project will accommodate an annual throughput capacity of 650,000 twenty-foot equivalent units (TEUs).
"The expansion enables us to stay well ahead of the growth pattern we've seen in the Port of Mobile, as well as add dock space to support the growing vessel sizes that are coming to the terminal," said Brian Harold, managing director for APM Terminals.
This is the third phase of a five-phase long-term plan to grow the terminal's annual capacity to 1.5 million TEUs. Port Authority officials say the dock extension will take approximately 24 months to complete, while the yard will take 18 months to complete.
"Container intermodal growth continues to drive investment at the Port of Mobile," said James K. Lyons, chief executive of ASPA. Since 2005, the Port Authority and its partners have invested $535 million in shore-side and channel improvements to support the larger ships arriving at the Port of Mobile.
"The container terminal expansion continues to be a huge asset and tool for our economic development efforts, especially with distribution and logistics projects. With the phased expansions, we are able to continue to show the growth potential regarding containerized cargo in Mobile to major companies like Walmart and Amazon," said David Rodgers, senior project manager for the Mobile Area Chamber.
"These prior investments have competitively positioned the port and established Mobile as an alternate gateway for U.S. trade. This expansion and our planned harbor deepening and widening program will provide both shippers and carriers with a cost effective, customer service oriented option," said Lyons.
The U.S. Army Corps of Engineers harbor modernization study is underway, with a record of decision expected by year-end 2019.
About the Mobile Chamber
The Mobile Chamber is a private business organization with more than 1,700 members and the economic developer for the City of Mobile and Mobile County. The Mobile Chamber's focus is to provide members with networking, marketing and professional development opportunities, expand jobs in the area, develop the local workforce, advocate legislative priorities and offer resources to help small businesses grow. Additional information is on the Chamber's website, Facebook, Instagram, LinkedIn, Twitter and YouTube.