Chamber Names Continental Motors Group 2017 Manufacturer of the Year
The Business View – December 2017/January 2018 / News You Can Use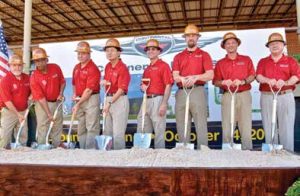 Continental Motors Group renewed a commitment to Mobile as the site of its corporate global headquarters after a lengthy search, retaining several hundred high-paying jobs locally.
A leading manufacturer of new and rebuilt FAA-certified piston engines, spare parts and components for small propeller driven airplanes, Continental was named the Mobile Area Chamber's Manufacturer of the Year.
"Continental has long been the cornerstone of our ever growing aviation sector," said Troy Wayman, the Chamber's vice president of economic development. "Their world-class engines and reputation shine a spotlight on Mobile on an international stage. Continental has played an integral role in helping Mobile's aerospace cluster grow and flourish."
With an anticipated late 2018 completion date, the new 260,000-square-foot complex will replace the company's current 11-building footprint. The company is investing approximately $70 million in the building and new equipment. Future plans include a customer and technical service division to serve its worldwide clients 24 hours a day, 365-days a year in multiple languages.
Opened in Mobile in 1966 when the original company, based in Michigan, was looking to separate its aviation business from its vehicle engine manufacturing operations, Continental's current parent company, AVIC International Holding Corp., is based in Beijing, China.
"We are proud that Continental calls Mobile home," said Wayman. "They are the perfect example of how manufacturing continues to thrive in Alabama."
Click here to read The Business View – December 2017/January 2018
Additional information is on the Mobile Area Chamber of Commerce's website at www.mobilechamber.com, on Facebook at @MobileChamber and Twitter at @MobileChamber
About the Mobile Chamber
The Mobile Chamber is a private business organization with more than 1,700 members and the economic developer for the City of Mobile and Mobile County. The Mobile Chamber's focus is to provide members with networking, marketing and professional development opportunities, expand jobs in the area, develop the local workforce, advocate legislative priorities and offer resources to help small businesses grow. Additional information is on the Chamber's website, Facebook, Instagram, LinkedIn, Twitter and YouTube.