Amazon Delivers New Sortation Center to Mobile
The Business View – August 2017 / News You Can Use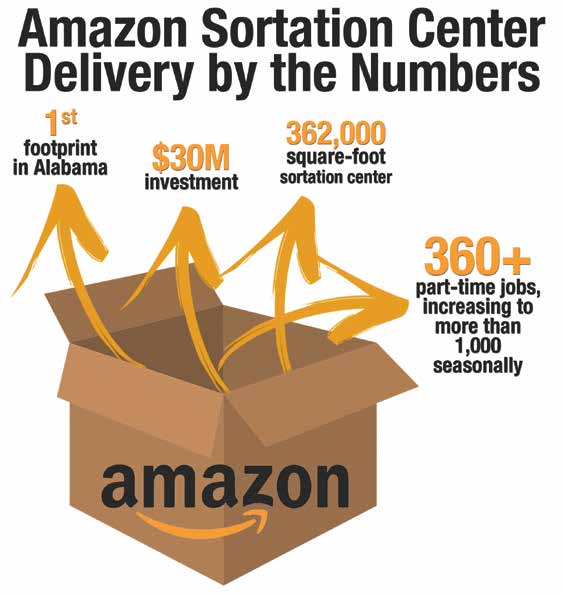 It was prime news when early this summer Amazon announced its intention to build a 362,000-square-foot sortation center in west Mobile off I-10, a nearly $30 million investment. The company has plans to hire more than 360 part-time employees, boosting that number to more than 1,000 seasonally.
The Mobile Area Chamber, in partnership with the Alabama Department of Commerce, Mobile County Commission and the City of Mobile, worked on this project since 2016. The center is a partnership between Amazon and Johnson Development Associates and, according to Amazon officials, is expected to open later this year.
"This is yet another example of how Mobile's distribution infrastructure and workforce continue to draw the attention of international companies like Amazon," said Troy Wayman, the Chamber's vice president of economic development.
As Amazon's first location in the state of Alabama, the center will serve as a site to efficiently sort products sold on amazon.com for consumer use.
"There are a lot of contributing factors that go into our thought process on where to place a new customer fulfillment or sortation center," said Ashley Robinson, strategic communications manager for Amazon. "Most importantly, we want to make sure our facilities are placed as close to the customer as possible to ensure we can offer a great Prime service and fast shipping speeds to customers. We also look at the workforce, and we've found great talent in abundance in Mobile County."
The project will be located in Mobile County Commissioner Jerry Carl's district. "The biggest thing the Amazon center will do, besides the obvious jobs, is put Mobile County on a very short list of cities that could be in every home in America via the shipping label," he said.
"Amazon is one of the most successful and innovative companies in the world, and we could not be more excited to welcome their first major location in Alabama," said Mobile Mayor Sandy Stimpson.
Click here to read The Business View – August 2017
About the Mobile Chamber
The Mobile Chamber is a private business organization with more than 1,700 members and the economic developer for the City of Mobile and Mobile County. The Mobile Chamber's focus is to provide members with networking, marketing and professional development opportunities, expand jobs in the area, develop the local workforce, advocate legislative priorities and offer resources to help small businesses grow. Additional information is on the Chamber's website, Facebook, Instagram, LinkedIn, Twitter and YouTube.