Alabama Launchpad Mobile Hosts Competition Finale
The Business View – May 2017 / News You Can Use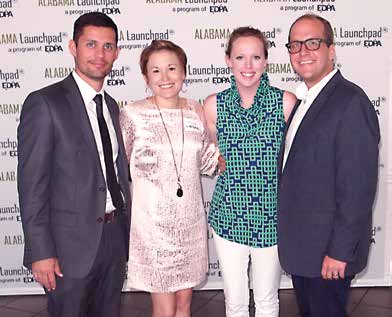 Entrepreneurship got another boost when Alabama Launchpad, a program of the Economic Development Partnership of Alabama, brought its startup competition finale to Mobile in April. The event was sponsored by the University of South Alabama and the Mobile Area Chamber.
Launchpad judges, who were entrepreneurs, investors and corporate stakeholders, heard the closing cases of five companies. Startup teams from Selma, Birmingham and Orange Beach won a share of nearly $250,000 to grow their companies.
"The competitions not only put a spotlight on the startups and provide much-needed money support to the teams, they also give the entrepreneurs opportunities to receive mentoring and feedback from the judges who have proven experience in investing and building successful businesses," said Greg Sheek, Launchpad programs director.
Mobile's CigarClub.com was one of the five to make it all the way to the finale – a huge accomplishment in itself, said Danette Richards, the Chamber's director of small business development. Of their experience, cofounder Chris Yokley said,
"The Alabama Launchpad competition was an amazing experience. The judges gave good feedback and made the best decision they could with the information they had. We were up against some tough competition, and I'm proud of how far we made it."
Pictured above: CigarClub.com's Chris Yokley (left) and Jeff Zeiders (right) are pictured with their wives Lisa Yokley and Mary-Lacey Zeiders at Alabama Launchpad during the
Mobile event in April.
Click here to read The Business View – July 2017
About the Mobile Chamber
The Mobile Chamber is a private business organization with more than 1,700 members and the economic developer for the City of Mobile and Mobile County. The Mobile Chamber's focus is to provide members with networking, marketing and professional development opportunities, expand jobs in the area, develop the local workforce, advocate legislative priorities and offer resources to help small businesses grow. Additional information is on the Chamber's website, Facebook, Instagram, LinkedIn, Twitter and YouTube.