Mobile Named Among 'American Cities of the Future'
The Business View – June 2017 / News You Can Use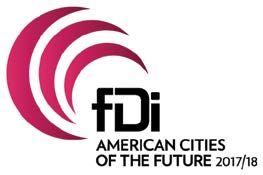 FDI released its American Cities of the Future 2017/18 in the April/May edition of the magazine. Mobile landed in the No. 3 spot in the Small Cities – fDI strategy category.
"The city has a strong track record of attracting high-value FDI [foreign direct investment] projects, and our ranking suggests this should continue," said Courtney Fingar, the magazine's editor-in-chief. "Mobile scored well in the subjective category of FDI Strategy with our judges being pleased that the city has a sound plan in place to continue to build on its strengths."
The report included data on 400-plus locations in North and South America, analyzing economic potential, business friendliness, human capital and lifestyle, and an independent category – FDI strategy. "Small" locations, according to the methodology, refers to city populations between 100,000 and 350,000.
The Mobile Area Chamber submitted the entry last year citing 40 international companies in Mobile, representing 18 countries, along with a strong business and education community partnership, an international trade program registering impactful export sales and job creation, entrepreneurial and small business development programs, and forward-thinking leaders willing to make sure Mobile is relevant today, tomorrow and in the future.
To read the story, visit: http://www.fdiintelligence.com/ Locations/Americas/fDi- American-Cities-of-the-Future- 2017-18-New-York-triumphs-again.
Click here to read The Business View – June 2017
About the Mobile Chamber
The Mobile Chamber is a private business organization with more than 1,700 members and the economic developer for the City of Mobile and Mobile County. The Mobile Chamber's focus is to provide members with networking, marketing and professional development opportunities, expand jobs in the area, develop the local workforce, advocate legislative priorities and offer resources to help small businesses grow. Additional information is on the Chamber's website, Facebook, Instagram, LinkedIn, Twitter and YouTube.