Continental Motors Recommits to Mobile
The Business View – May 2017 / News You Can Use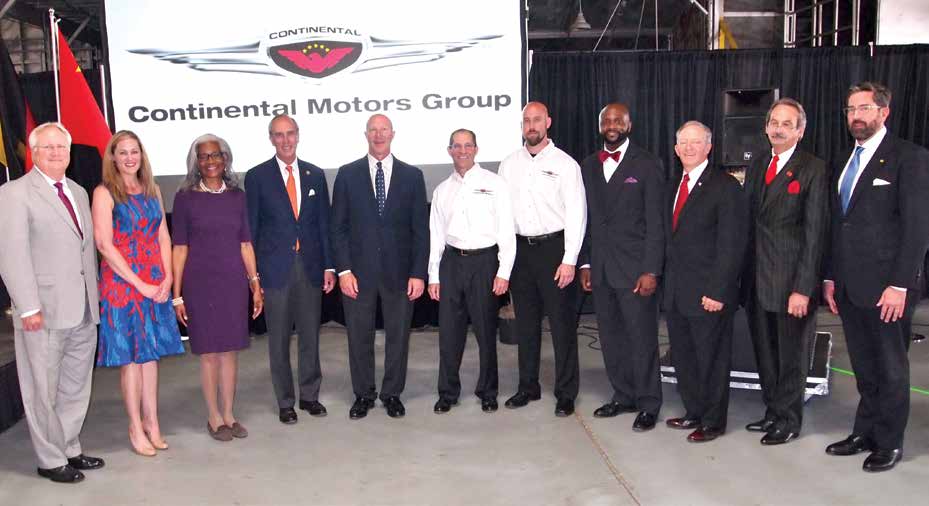 Continental Motors Group representatives announced in late March that after a lengthy search, the company is renewing its commitment to Mobile as its global corporate headquarters, retaining several hundred high paying jobs locally.
The Mobile Airport Authority (MAA) will build and lease back to the company a 260,000-square-foot, state-of-the-art manufacturing facility and corporate office, replacing the company's current 11-building footprint. The total capital investment is estimated at $70 million, with approximately $30 million for the facility and $40 million by Continental for new equipment. The deal also returns some prime land back to the airport authority for future development.
"Thank you very much for your confidence in us. We will justify it," said Elliot Maisel, chairman of the MAA board of directors, and chairman and CEO of Gulf Distributing.
Continental is an industry leader in new and rebuilt FAA certified piston engines – both gas and diesel – spare parts and components for small propeller driven airplanes. Future plans include a customer and technical service division to serve its worldwide clients 24 hours a day, 365 days a year in multiple languages.
The company has a 51-year history at the Mobile Aeroplex at Brookley and is considered one of the anchors of the local aerospace industry, moving to Mobile in 1966 when the former Brookley Air Force Base was in the process of closing.
The decision to remain in Mobile was driven by Continental's parent company, AVIC International Holding Corp., based in Beijing, China. The holding corporation recently made several acquisitions and the search for Continental's headquarters included additional locations throughout the U.S.
"Continental Motors has been supported by its excellent team members and the community of Mobile, Alabama, for over 50 years. We are pleased to announce a renewed partnership will secure the company's future for another 100 years," said Rhett Ross, president and CEO of Continental Motors Group.
"The 'greenfield' facility will modernize our manufacturing processes into a world-class, high productivity, vertically integrated center of manufacturing excellence in the new aviation center in Mobile," said Michael Skolnik, Continental's executive vice president of global operations.
The building design and equipment selection will be finalized this year, with move in set for 2019.
"Continental Motors is a long-time anchor of our growing aerospace cluster. This expansion and investment is a great win for Mobile, further solidifying the region as a major hub for aviation and aerospace," said Troy Wayman, the Mobile Area Chamber's vice president of economic development.
City of Mobile Mayor Sandy Stimpson said, "Continental Motors has been an outstanding partner to our community for many years. We are pleased to support them in making this major investment in the City of Mobile. Mobile is open for business, and it's a great time to invest in Mobile."
Mobile County Commission President Merceria Ludgood said, "We welcome this announcement that is yet another milestone in the five decade relationship between Continental Motors and Mobile County. Continental has provided well-paying jobs and has invested deep roots in our community. We are honored that Continental is working to grow and retain jobs here."
Click here to read The Business View – May 2017
About the Mobile Chamber
The Mobile Chamber is a private business organization with more than 1,700 members and the economic developer for the City of Mobile and Mobile County. The Mobile Chamber's focus is to provide members with networking, marketing and professional development opportunities, expand jobs in the area, develop the local workforce, advocate legislative priorities and offer resources to help small businesses grow. Additional information is on the Chamber's website, Facebook, Instagram, LinkedIn, Twitter and YouTube.