Click here to download the Chamber's publication – Stay Safe. Stay Local. Stay Smart. COVID-19 Guidebook for Reopening Your Business.
For a list of Mobile companies making masks and other PPE, click here. Note, this is a living document and will change as needed.
Below are a few links explaining the latest orders from Governor Kay Ivey. This is not a complete list and more clarification will be shared when available.
Guidelines for Athletic Facilities
Guidelines for Close Contact Businesses
Guidelines for Adult and Youth Sports and Activities
Guidelines for Child Daycare Facilities
Guidelines for Day and Overnight Camps, page 2:
Guidelines for Entertainment Venues, page 2
---
Enjoy Mobile with Confidence
Created in partnership with the City of Mobile, Downtown Mobile Alliance, Mobile Area Chamber of Commerce and Visit Mobile, "Enjoy Mobile with Confidence" is a local campaign designed to highlight health best practices local businesses are using to keep customers and employees safe in a variety of sectors.
Below is a list of downloadable posters you can print and hang in your place of business to give customers the confidence they might need that your business is practicing safe health measures. The Chamber has a supply of printed materials at the office, 451 Government St., in you cannot print on 11 x 17 paper.
Build confidence among your employees and with visitors and post one in your storefront today. There are several customized options including: general business, retail, hotel and restaurant.
These are the links to the signs:
General     Hotel    Restaurants     Retail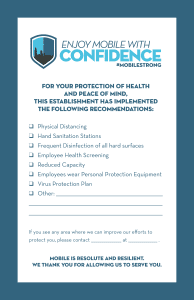 ---
EXECUTIVE SUMMARY OF RECOMMENDATIONS
FOR REOPENING AND KEEPING A SAFE WORKPLACE
The majority of these recommendations come from the aforementioned sources. This playbook provides specific measures for business categories to aid in a safe,
thoughtful reopening. The specific recommendations in each category support the overall goal of opening businesses in a way that protects employees and customers
from exposure to COVID-19 and helps prevent the virus's spread. Individuals' temperature standards as used in this report will be in accordance with directions
from Alabama State Health Officer, Dr. Scott Harris, and the Alabama Department of Public Health.
It is also important that businesses take responsibility to ensure they have adequate supplies for their employees and customers such as soap, disinfectant, hand
sanitizer, paper towels, tissue, face masks, etc. Companies should keep a minimum of a 15-day supply at all times.