MEET MOBILE'S CITY LEADERS
Business View – December 2021/January 2022 / Business News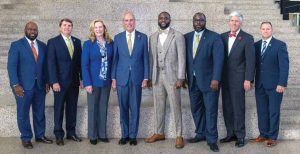 This fall's municipal elections meant the mayor and all seven city council seats were up for grabs. The City Council and the Mayor were sworn in to their new terms in November. Here's an introduction to these elected officials and their districts.
Mayor Sandy Stimpson
Since assuming office in 2013, Mayor Sandy Stimpson's tenure has been marked by notable achievements. Stimpson and his team have executed such initiatives as Map for Mobile, an increase in the delivery of infrastructure improvements and the city's first supplier diversity program. The theme for the administration's third term is "Uniting Mobile Through Action," and the aim is to fulfill the overall vision of One Mobile – a safer, more business- and family-friendly city.
Stimpson's leadership has led to city finance reform to put the city on sound financial footing, reducing bonded indebtedness by nearly $100 million, and unfunded liabilities for pension and benefits by $200 million, leading to credit rating increases from both Moody's and S&P. During the same period, he has built and maintained a two-month rainy day reserve fund and awarded five raises for city employees.
His civic and business endeavors, both locally and statewide, have included serving on the boards of the Boys & Girls Club of Southwest Alabama; the Mobile Area Chamber of Commerce; the Alabama Policy Institute; the Business Council of Alabama; and The University of Alabama President's Cabinet.
A graduate of The University of Alabama with a bachelor's degree in civil engineering, Stimpson had a nearly 40-year career in his family's lumber manufacturing business prior to entering public service.
DISTRICT 1 – Cory Penn
Cory Penn is the new city council representative for District One. Penn was an educator at Chastang Middle School in Trinity Gardens with Mobile County Public Schools until 2017.
He currently serves as the branch director of the Boys & Girls Club of Southwest Alabama. In addition, he is the co-founder of the Chastang Elite Service Club, designed to help boys discover their purpose and give them the skills to have a successful life. Penn and a friend started Mighty Breakthrough Entertainment (MBE), which promotes events and produces music. As a result, Penn was invited to co-host the Gospel Hits 1 Video Show that aired locally and nationally.
He has served on the board of Mobile Community Action Inc. and is currently the unit director at Kiwanis Boys and Girls and the student pastor at Right Way Christian Center Church. Penn studied history at Stillman College in Tuscaloosa and is a graduate of Leadership Mobile.
DISTRICT 2 – William Carroll 
William Carroll is a native of Mobile and lifelong resident of District Two. A commercial and residential builder with a specialty in historic restoration, he is president of William Carroll Inc.
He is a graduate of McGill-Toolen High School and earned a bachelor's degree in architectural construction engineering from Florida A&M University. Carroll is a three-time college football All-American and played in the 1993 Senior Bowl.
He is past president of the Mobile County Chapter of Habitat for Humanity and the Family Counseling and Girls Club. He is a participant in the Oakleigh Venture Revolving Funds; a volunteer for United Way Southwest Alabama and a volunteer coach for the Catholic Youth sports program. He is a member of St. Mary Catholic Church and of the Kappa Alpha Psi Fraternity
DISTRICT 3 – C.J. Small 
C.J. Small was voted president of the Mobile City Council. He is a graduate of John S. Shaw High School and an active member of the Mt. Sinai Missionary Baptist Church. He received an associate's degree in funeral services from Gupton-Jones College in Atlanta and a bachelor's degree in human resources from Faulkner University in Montgomery.
He is the owner of Small's Mortuary & Cremation Services. He is a member of the Alabama Funeral Director and Morticians Association, where he is the District One representative. Small is a member of the National Funeral Directors and Morticians Association, serves as secretary of the Epsilon Nu Delta Mortuary Fraternity, and sits on the board of directors for Mobile Civic Center, City of Mobile Citizens' Budget and Finance Advisory Committee and Oakdale Community Service Club.
He is a member of Kappa Alpha Psi Fraternity Inc., where he was named 2011 "Kappa Man of the Year." He also is a member of 100 Black Men of Greater Mobile and the Mobile Area Mardi Gras Association, serving as king in 2008. He is the chaplain of the MLK Adult Mardi Gras Association, a Partner in Education with Mobile County Public Schools and sponsors one of the largest toy drives in the city of Mobile during the Christmas holidays.
DISTRICT 4 – Ben Reynolds
Ben Reynolds represents the citizens of District Four. His family has been a part of the Dog River community for decades and has been involved in its development in various capacities.
Reynolds is currently the general manager/owner of Practical Builders LLC, a property and casualty insurance adjusting firm. He previously held positions with TuffShed, Modular Space Corp. and Allstate Insurance. He volunteers his time to the Riviere Du Chien Property Owners Association, serving as its president, is a member of the City of Mobile Golf Course Advisory Board and as an ambassador for the Mobile Area Water and Sewer System.
Reynolds earned a bachelor's degree in business administration from Faulkner University.
DISTRICT 5 – Joel Daves
After a 30-year career in banking, Joel Daves retired in 2013 and he was elected to the District Five place on the Mobile City Council and was re-elected by wide margins in 2017 and 2021.
Daves earned a bachelor's degree from the University of the South at Sewanee, Tenn., and received a law degree from Stetson University College of Law in St. Petersburg, Fla.
He graduated with distinction from the Stonier Graduate School of Banking at the University of Delaware.
He is a past board member of the Montgomery Museum of Fine Arts, Mobile Museum of Art, Montgomery Symphony, Alabama Shakespeare Festival, Montgomery Area Chamber of Commerce, Huntsville Symphony Orchestra, Huntsville/Madison County Chamber of Commerce, Alabama Symphony, Virginia Samford Theatre and Vulcan Park.
Daves was appointed by both Gov. Bob Riley and Gov. Robert J. Bentley to the Alabama State Council on the Arts and served as chairman of that organization from 2017 to 2019. He has twice been named to the board of trustees of the Alabama Department of Archives and History, receiving Alabama Senate confirmation, and currently serves as chairman of that organization. He is past chairman of United Way of Southwest Alabama and served as co-chairman of the Mobile Area Education Foundation's 80/20 Initiative.
He served in the U.S. Navy and U.S. Navy Reserve, retiring as a commander.
DISTRICT 6 – Scott Jones 
Born in Frankfurt, Germany, and adopted by U.S. Army parents, Scott Jones was brought to America as a baby and moved to Mobile in 1978. He became a naturalized U.S. citizen at 18. He graduated from Vigor High School and enlisted in the U.S. Army in 1988. After his service in Berlin, Jones continued his education at the University of Mobile and completed the ROTC program at the University of South Alabama. He earned a bachelor's degree and commission and a master's degree and post-graduate certification in educational organization leadership from Northcentral University. He served on active duty as an officer and Apache helicopter pilot, retiring in 2012 as a lieutenant colonel. He served for four years in combat zones in Iraq and Afghanistan.
Since retiring from the military, Jones has worked in the civilian sector as a regional manager and program manager for various companies internationally. He is currently an aviation missile analyst for Program Executive Office Missiles and Space.
DISTRICT 7 – Gina Gregory
Mobile City Council Vice President Gina Gregory was first elected in 2005, representing District Seven. Since then, she has been re-elected four times. As council president, she was the first woman ever to be elected as an officer in Mobile City Council history by her colleagues.
Previously, Gregory was the city's public relations director and spokesperson under former Mayor Mike Dow. During that time, Gregory was an integral part of Dow's executive staff, overseeing the mayor's communications, the city's special events department and sister cities activities. After leaving her post, Gregory worked with MDi Media Group as the company's public relations director before serving as the community affairs leader with Hargrove Engineers + Constructors.
Gregory has a broad background in media and government, including reporting and anchoring the news at Mobile's WKRGTV, WSFA-TV in Montgomery, WCJB-TV in Gainesville, Fla. and WJXT-TV in Jacksonville, Fla.
Before becoming an elected official, Gregory served as the associate director for the Alabama Petroleum Council in Montgomery, as a public affairs representative and lobbyist. She was a member of the Business Council of Alabama, and participated in regional and national legislative conferences.
Gregory graduated from the University of Florida with a bachelor's degree in broadcast journalism and a minor in political science. She is a graduate of Leadership Alabama and Leadership Mobile, a member of the Junior League of Mobile and the Senior Bowl Committee, and she serves on the board of directors for Ashland Place United Methodist Church.
Click here to read the Business View – December 2021/January 2022
Additional information is on the Mobile Area Chamber of Commerce's website at mobilechamber.com, on Facebook at @MobileChamber, Instagram at @mobile-area-chamber and Twitter at @MobileChamber.
About the Mobile Chamber
The Mobile Chamber is a private business organization with more than 1,700 members and the economic developer for the City of Mobile and Mobile County. The Mobile Chamber's focus is to provide members with networking, marketing and professional development opportunities, expand jobs in the area, develop the local workforce, advocate legislative priorities and offer resources to help small businesses grow. Additional information is on the Chamber's website, Facebook, Instagram, LinkedIn, Twitter and YouTube.