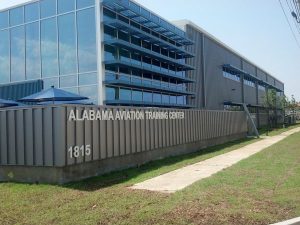 The Mobile region's workforce is one of its greatest assets. Mobile offers an available and skilled workforce for all types of industries. The Mobile Area Chamber of Commerce's Education & Workforce Development Division is dedicated to strengthening the region's workforce through collaboration with a broad coalition of business and education groups to keep training sharply targeted to employer needs and aligned with current and future standards. Collaborative industry clusters partnering with secondary/post-secondary education and other training providers include healthcare, aerospace, maritime, commercial construction, manufacturing and technology.
Mobile offers some of the nation's best workforce training programs. AIDT, Alabama's workforce training organization, has a proven method of recruiting, screening and training for company startups or expanding work forces. AIDT currently operates the Alabama Aviation Training Center at the Mobile Aeroplex at Brookley and the Maritime Training Center near the Mobile River.
Collaboration between the state, education and industry have led to the establishment of additional training centers such as the Alabama Aviation Center, offering students FAA-certified training in A&P and Avionics; and the Alabama Aerospace Innovation and Research Center, providing a platform for innovation and collaboration by bringing together Bishop State Community College students and industry leaders at the Mobile Aeroplex at Brookley. Most recently, the Alabama Community College System announced the construction of an Advanced Manufacturing Training Facility to address the workforce needs for middle-skill, high-wage workers in the manufacturing sectors. This new center is set to open in 2017. These ventures illustrate only a few examples of how Mobile aggressively responds to the workforce needs of local industries.
Programs
Health Occupations Career Fair
Sponsored by the Bay Area Healthcare Coalition and managed by the Mobile Area Chamber of Commerce's Education & Workforce Development Division, this two-day interactive and hands-on career fair is designed to motivate and inspire students considering careers in an array of healthcare fields and to help the Mobile area cultivate a workforce pipeline to meet future demands. Each exhibit is staffed by local healthcare professionals or students to answer questions and discuss education requirements and opportunities. The career fair attracts approximately 1,000 10th-grade students from public and private schools in Mobile and Baldwin counties. Those students chosen to participate must have a GPA of 2.5 or higher and no unexcused absences.
Summer Scrubs, a project of the Bay Area Healthcare Coalition, is an intensive week of career exploration for rising high school seniors in Mobile and Baldwin counties. These students have expressed a desire to explore careers in healthcare and have the opportunity to spend each day of the program at a different healthcare facility where they interact with health professionals and observe them on the job in a real-world environment. Students are able to discuss and ask questions about healthcare jobs and the education paths available.
Young Entrepreneurs Academy (YEA!) is an innovative after-school class for high school students transforming them into CEOs. Throughout the class, students write business plans, make pitches to investors and actually launch and run their own business. YEA! Unites education and business to instill the spirit of entrepreneurship into our future leaders. The Mobile Area Chamber project manages this program in partnership with the Alabama School of Mathematics and Science and the University of South Alabama.
The Mobile Area Chamber's Education & Workforce Development Division serves on the steering committee for the Southwest Alabama Workforce Development Council (SAWDC) Worlds of Opportunity event. More than 120 regional businesses and industries throughout southwest Alabama partner each fall to introduce more than 10,000 8th-grade students to potential careers and a successful future. The event encourages public and private school students to explore first-hand hundreds of future job opportunities. The expo uses hands-on, real-world exposure to start students thinking early about a career path or an education focus. Over two days, 8th graders investigate 12 "worlds," from manufacturing to engineering to aerospace to healthcare.
Founding Coalition Members
South Alabama Workforce Development Council
(SAWDC)
The Mobile Area Chamber is an active partner with the South Alabama Workforce Development Council (SAWDC) – Region 9, a business-led group working to attract, educate and train students and workers to better meet employer needs and foster economic growth in a global marketplace.
A partnership of coastal Alabama healthcare providers, secondary and post-secondary schools, the Bay Area Healthcare Coalition's mission is to identify and develop education-to-workplace initiatives supporting the growing need for qualified healthcare professionals. Current projects and initiatives include the annual Health Occupations Career Fair and Summer Scrubs program for high school students.
Funding Coalition Members:
Mobile Area Education Foundation
The Mobile Area Chamber is an active partner with the Mobile Area Education Foundation (MAEF), an independent, non-profit, local education fund dedicated to creating higher expectation for our public schools and our community. The Education & Workforce Development Division collaborates with MAEF to build business and industry partnerships to support the Mobile County Public School System High School Signature Academies.
In 2014, the Southwest Alabama region applied for a U.S. Department of Commerce designation as a nationally-recognized "Manufacturing Community" through the Investing in Manufacturing Communities Partnerships (IMCP). In a highly-competitive process with more than 70 applicants, the Advancing Southwest Alabama region was named one of the first twelve designees and Advancing Southwest Alabama was born. This designation allows the region to receive coordinated support from numerous federal agencies for economic development purposes. The lead agencies for the Advancing Southwest Alabama designation are the Mobile Area Chamber and the University of South Alabama.
Education and Training